Welcome to Salon 86!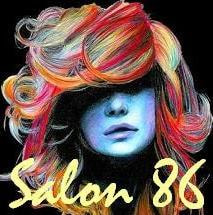 At Salon 86 our goal is to make our guests feel at home. As you step into the salon, an inviting escape awaits you. You'll be greeted by our professional, licensed technicians who will provide an exceptional experience.

​Salon 86 offers an extensive variety of beauty services and luxury spa treatments... Conveniently located west of Jordan Creek Town Center... At the corner of Jordan Creek Parkway and Bridgewood Boulvevard .
**COVID-19 Update... Salon 86 was closed due to pandemic from March 22nd through May 15, 2020
The wait is finally over!!
We are so excited to announce that we will be re-opening, on a limited basis beginning
Saturday, May 16th!! With some restrictions...
We have put into place strict policies and procedures to ensure the safety of our staff and guests and allow adequate timing to disinfect all surfaces:
* We are going to begin rescheduling appointments... please be patient, we are working on it! Your Stylists will be reaching-out to make sure anyone who was canceled in the past couple of months, has been rescheduled.
* Anyone wishing to enter the salon must have an appointment.
* Everyone will be required to wear a mask when entering the salon as we are unable to maintain a 6 foot distance. If you do not have one, we will have some for purchase.
* When you arrive, please text us that you are here. We will let you know when it is ok to come in.
* You will need to use hand sanitizer that will be provided as you walk in the door.
* We've modified scheduling and seating to ensure social distancing.
* We have enhanced cleaning and disinfection protocols.
* We ask that if you are sick, have symptoms such as cough, fever, shortness of breath, or if you have been around anyone that has been sick, please do not schedule an appointment for an additional two weeks.
* We ask that you do not bring any children or additional family members with you that are not receiving services.
* Please arrive at your appointment with as few personal items as possible, any items brought into the salon must be sanitized.
By limiting the number of people in the salon, we are minimizing the exposure of any illness or discomfort during this situation. We appreciate your patience while things return to normal and thank you for your cooperation as this allows us to remain available for your care.
Thank you for all the support you have shown us during this time. We can't wait to see you soon!!!
7450 Bridgewood Boulevard, Suite 235
West Des Moines, Iowa
515-276-9993
---